Electrical devices and systems are an important part of day-to-day operations in the industrial, commercial, and residential sectors. However, while they make our lives easier in many ways, they also pose a health and safety risk. Any electrical equipment can experience short circuits or surges, which can cause an electrical current discharge to pass through anyone working on the device or system, resulting in injury or, in severe cases, death. Ground straps are key to preventing these injuries and fatalities. 

What Is a Ground Strap?
Ground straps—also known as grounding straps—play a vital role in ensuring the safety of electrical devices and systems. The ribbon-like components connect to the equipment and a safe ground. In the event of a short circuit or surge, they serve as a designated path through which electricity can flow without causing harm to people or damage to other equipment. 

Types of Ground Straps
Ground straps come in many variations to suit different applications. Three of the key design factors to keep in mind when choosing one are strap type, strap shape, and conductor material.
Strap Type
There are numerous types of ground straps available, including: 
Braided.

Braided ground straps are made by interlacing a single wire or multiple wires. 
Mesh/Grid.

Wire mesh/grid ground straps are made of cloth-like material formed by weaving or welding wires together.  
Sheet/Strip.

Ground sheets or strips are flat and rectangular.
Solid.

Solid ground straps are made from one solid wire. 
Strap Shape
Ground straps are generally flat or tubular. However, some manufacturers can make them specialized shapes.
Conductor Material
Typical materials for ground straps include:
Aluminum

Copper

Tinned Copper

Stainless Steel

Nickel-Plated Materials

Silver-Plated Materials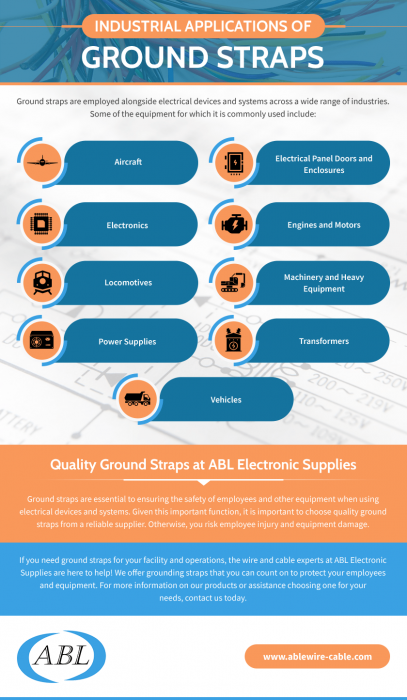 Industrial Applications of Ground Straps
Ground straps are employed alongside electrical devices and systems across a wide range of industries. Some of the equipment for which it is commonly used include: 
Aircraft

Electrical Panel Doors and Enclosures

Electronics

Engines and Motors

Locomotives

Machinery and Heavy Equipment

Power Supplies

Transformers

Vehicles

Quality Ground Straps at ABL Electronic Supplies
Ground straps are essential to ensuring the safety of employees and other equipment when using electrical devices and systems. Given this important function, it is important to choose quality ground straps from a reliable supplier. Otherwise, you risk employee injury and equipment damage. 
If you need ground straps for your facility and operations, the wire and cable experts at ABL Electronic Supplies are here to help! We offer grounding straps that you can count on to protect your employees and equipment. For more information on our products or assistance choosing one for your needs, contact us today.