What Does AWG Mean?
Have you ever wondered what AWG is? The term, which stands for American Wire Gauge, is a system used to convey the standard size of single-strand, solid, round, electrically conductive wires in North America. The system was created in the mid-nineteenth century as a replacement so that people could rely on one standard instead of various measurements by different manufacturers.
The Basics of AWG
Here's more information about the various wire gauges and current limits:
AWG Wire Sizes
The number can help people determine a wire's current-carrying rating by using the formula D(AWG)=.005·92((36-AWG)/39) inch. Although the system acknowledges a wire's resistance level, the size of its protective insulation is not taken into consideration. A wire gauge refers to how a wire is constructed and its electrical resistance. Thicker wires have a lower resistance and gauge number because there are more electrons surging through it. Meanwhile, thin wires can't carry as many electrons and have a higher gauge number and resistance level. The smallest standard size or gauge in the AWG system is 40 and 0000 AWG is considered the largest. The wires double in size every 6 steps in gauge.
Metric Wire Gauges
The Metric Gauge scale is the opposite of the AWG system, in that the diameter goes down as the gauge increases. This means that a wire that measures 2 mm in diameter would be considered 20 gauges. To prevent confusion or potential mix-ups, metric wire gauges are usually specified in millimeters instead of metric gauges.
Load-Carrying Capacities
A load-carrying capacity refers to the capacity of a wire to carry a current or transmit amps. Several factors, including the wire's thickness, thermal conductivity, insulation temperature limit, voltage drop, and outside elements, such as the temperature and air convection, are used to calculate it. There are currently two maximum amps: one is for a more conservative power transmission that uses 700 circular mils per amp rule, while the other is for chassis wiring in the air. 
Maximum Frequency for 100% Skin Depth
The maximum frequency for 100% skin depth is used in high frequency AC engineering when a wire's current happens to flow along the outside of the wire as well. When the calculated skin depth reaches the equivalent of the radius of the wire, anything above this frequency could burn or harm someone's skin.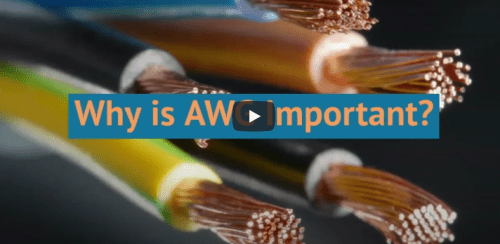 Why Is AWG Important? 
AWG is important because it can help people identify which electrical wires and extension cords they should use in their home or business. Without this clarification, they could get the wrong AWG cable and it could overheat and possibly become a fire hazard because it did not have the correct current-carrying capacity.
Request a Customized Quote From ABL Electronic Supplies, Inc.
ABL Electronic Supplies has provided quality products at competitive prices to our trusted partners for almost half a century. We are proud to offer a range of grounding products, including cables, cable ties, ground straps, wires, and more. A vast array of industries, ranging from the military to aerospace, solar, and transportation, trust our products. 
To learn more about why you should partner with ABL Electronic Supplies, contact us today. One of our team members would be happy to speak with you and provide a free customized quote.